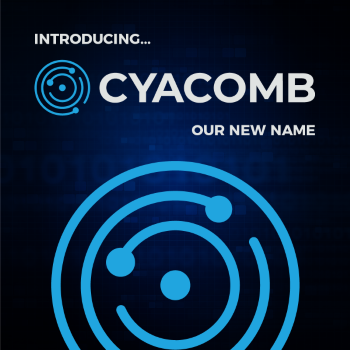 Our company has come a long way since starting out in 2016. We've seen fantastic success and growth over the last few years and built up an incredibly talented and committed team.
We're all delighted with the ever-increasing impact our technology is having in counter-terror and child sexual abuse investigations. Seeing our tools making a difference, not just in the UK, but in the US and Canada too, has been really exciting.
It's because of this growth, and our ongoing product diversification, that we have made the decision to officially change our name from Cyan Forensics to Cyacomb.
The new name retains much of our existing brand heritage, but this change was made to ensure the company has the right identity and brand to take us to the next level of our growth, as we expand into new international territories and enter new product markets.
Cyacomb's suite of products will adopt our new name, with Cyan Forensics becoming Cyacomb Forensics; and Cyan Protect becoming Cyacomb Safety.
Our new name is now in use with immediate effect and is reflected across our online assets, including our new website and our various social media channels.
Our customers will also soon see a transition in the branding of our tools, as with our presence at upcoming events and trade shows at home and abroad.
As we look ahead to the future, we've so many fantastic opportunities to take the company forward, and we're really excited to be starting this new chapter as Cyacomb.