Dariia Sokol
Head of Marketing
---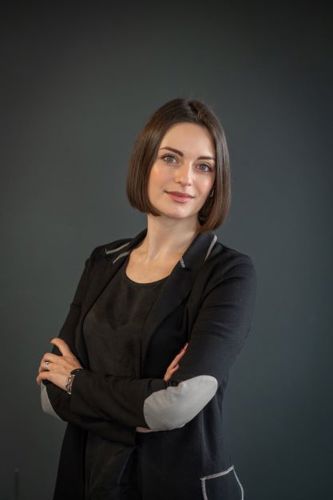 Q. How would you describe your role with Cyacomb?
I joined Cyacomb as Marketing Manager in 2022. It was a really exciting time within the business as it was rapidly expanding into Europe, North America and beyond. At the time my life was all change – I had moved from Ukraine, was settling down in the UK and switching from a background working within FMCG brands to safety technology. This was for sure a real challenge, but an interesting one!
Talking of challenges, if you think you know the English language well then you obviously have never worked with Scottish colleagues! 😊
I came to Cyacomb with a wide variety of marketing experience which allows me to bring new insights and fresh ideas to the company. After 8 months in the role, I was promoted to Head of Marketing. I'm lucky to work with talented, supportive and extremely intelligent colleagues who I learn from every day. It's great to work with peers who share the same values and vision of making the online world safer.
Q. Tell us about your career journey that led you to Cyacomb
For the last 10 years, I've been working in FMCG corporations, practicing classic brand marketing and being responsible for the whole brand circle. I also worked as a freelance marketer working with SMBs and international agencies which gave me the opportunity to meet incredibly talented people who nurtured my love for marketing.
Q. What attracted you to join Cyacomb?
I've been searching for a role within a tech company for some time. I wanted to switch the whole direction  of my career and challenge myself by working in a B2B business with a totally  different audience from the FMCG. Once I read Cyacomb's ethos – to make this world a safer place to live, it resonated strongly with me. Being a Ukrainian, whom every day follows hundreds of crimes happening in my motherland and being a mother who saved her child from a bombing in the middle of the night, I could not pass up on a company that works hard every single day to safeguard and protect children all over the world. It  might sound  ambitious , but this is what we're actually doing here at Cyacomb.
Q. What aspects of your job and working for Cyacomb do you enjoy the most?
Cyacomb products are ground-breaking and unique, our industry is niche and complex,  our audience are experts in their fields and a close knit community. This  all impacts our marketing strategy and approaches. Being flexible, constantly reviewing what we think we know about marketing, getting a better understanding of our customers, sharing their pains, and offering relevant instruments – I enjoy all of that that the most.
At Cyacomb, we harness the power of data and technology for good. Promoting products like this is a once-in-a-lifetime opportunity for any marketing specialist, isn't it?
Q. Do you have any goals or targets in mind for the future with Cyacomb?
Collaborating with Law Enforcement, Social Media, and Cloud Companies, we constantly look to improve our fast, simple, and thorough tools. From a marketing point of view, our main goal is to spread as broadly as possible the knowledge that our products exist and that they can actually safeguard the public.
Q. What advice would you give to anyone starting out in your line of work?
Learn the basics, and learn them  by heart. Always remember that at the end of the day, marketing is a science about customers, and customers are  people. Unpredictable, constantly changing people. That is why experimenting, testing new approaches and instruments, and generating out-of-box ideas will help you to find the key to the customers' hearts.
Q. If you could instantly have one new skill or talent, what would it be?
Being able to absorb any new information quickly and, even more importantly - keep it stored forever (yes, I have some trouble with memory).
However, to be truly honest, if dreaming about real superpowers, I'd say it would be the  ability to protect all children around the world from offenders, disease, wars, disasters, and loneliness.
Q. What do you like to do in your spare time away from work?
I love to spend time with my family, especially my 3-year-old son Max. It helps me stay young at heart and to never forget how important it is to cherish every minute with our loved ones. I also love traveling, reading, staring at Impressionists' works for hours, practicing yoga and Nordic walks.